Suite
Unforgettable accommodation in Mani, enjoying a Stone Tower with fireplace and Jacuzzi…

Our two-storey suite is definitely one of the most romantic and special choices for luxurious accommodation. Exposed-stone walls all around, pointed with mortar in restful hues, provide the ultimate feeling of cosiness. The spacious wooden sleeping loft is furnished with double bed and superior quality mattress, which has been especially designed to envelope and support your whole body. 

The Jacuzzi next to the bed in the sleeping loft makes your stay a unique experience.  Light fabrics that seem to float in the air hang from the ceiling above the iron bedstead. Rich lace valances round the bed, high quality bedding and hand-woven rugs in natural hues blend artistically to create a fairy-tale feel, while also providing precious moments of extreme relaxation and rejuvenation. The lounge on the floor below the loft provides all the comfort you need to transform your stay into a magical experience.

The comfortable sofa is there for you to relax with a welcome drink, as the fire is burning in the grate of the open fireplace. Most suites have an open fireplace. The elegant dining area offers you the opportunity to enjoy a quiet romantic meal any time of the day by prior arrangement, while the elaborately decorated secrétaire lends a note of its own.

Our suites are ample, 50 square metres in size, comfortably accommodating a family with two children. Most suites have two large verandas with views of Areopolis and the sea in one direction and the peaks of Mount Taygetus with picturesque Sotiras village perching on one of them in the other. All balconies boast marble top tables, so you can enjoy the views throughout the day.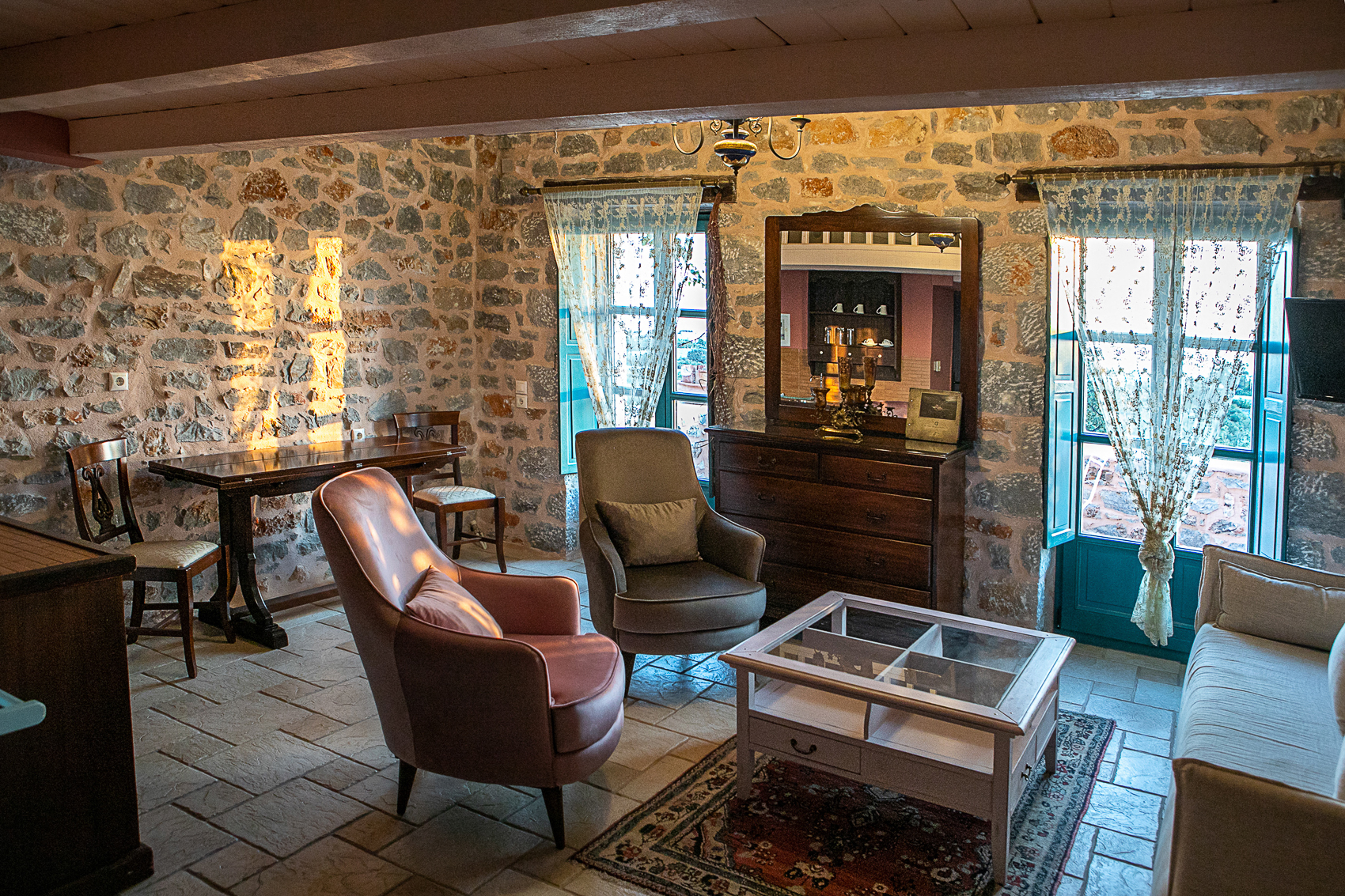 FACILITIES
Veranda
TV
A/C
Heating
Complimentary bath amenities
Bath or shower
Fridge
Free WiFi
Double Bed
Kitchen Facilities